CONTEXT
Most of the world's leading vehicle manufacturers now have significant hydrogen-powered fuel cell vehicle (FCV) development programmes, and the general public in many parts of the world, including Europe, United States, Japan and Korea can now enjoy high performance, emissions-free driving from FCVs delivered by the likes of Hyundai, Toyota and Honda. However, FCV deployment in this first wave of commercialisation will likely be counted in levels of 10's of thousands for the next few years until the early 2020s. Greatly accelerated growth in the market for FCVs to a noticeable level of penetration of the overall vehicle market is projected to occur from 2025 onwards. Critical to these projections is the implementation of the next generation of improved fuel cell technology and manufacturing processes to further improve performance over the fuel cell engine lifetime and reduce cost - down towards the headline target for the fuel cell stack of €50/kW.
Project INSPIRE is charged with the development, manufacturing and implementation of new stack component technology, including catalysts, membranes, gas diffusion layers and metallic bipolar plates, that can meet this challenging stack cost target. As such INSPIRE will be a significant enabler for FCV market growth from the early 2020s.
| | |
| --- | --- |
| | |
| Gas Diffusion Layer GL2 | |
Johnson Matthey leads the consortium and is collaborating with industrial and academic partners to bring forward new materials and components for the membrane electrode assembly (MEA) that are already showing considerable promise in current FCH JU projects, and to integrate them for enhanced performance and to demonstrate their capability to be manufactured in volume.
Major European fuel cell component developer SGL Carbon GmbH is working on the carbon fibre gas diffusion layer part of the MEA; and DANA Incorporated is developing an optimised design of metallic bipolar plate that delivers the hydrogen and air to the MEA and transmits the electricity generated to power the vehicle.
BMW Group is setting out the requirements for the stack and will assemble the MEAs and bipolar plates into new stack designs aimed at achieving the cost, durability and volumetric power density targets required for mass market exploitation. INSPIRE also involves partners working on next generation catalysts, electrodes and membranes, from CNRS Montpellier, VTT Technical Research Centre of Finland Ltd., Technical University of Munich, Technical University of Berlin and the University of Freiburg.
Project management support is being provided by Pretexo.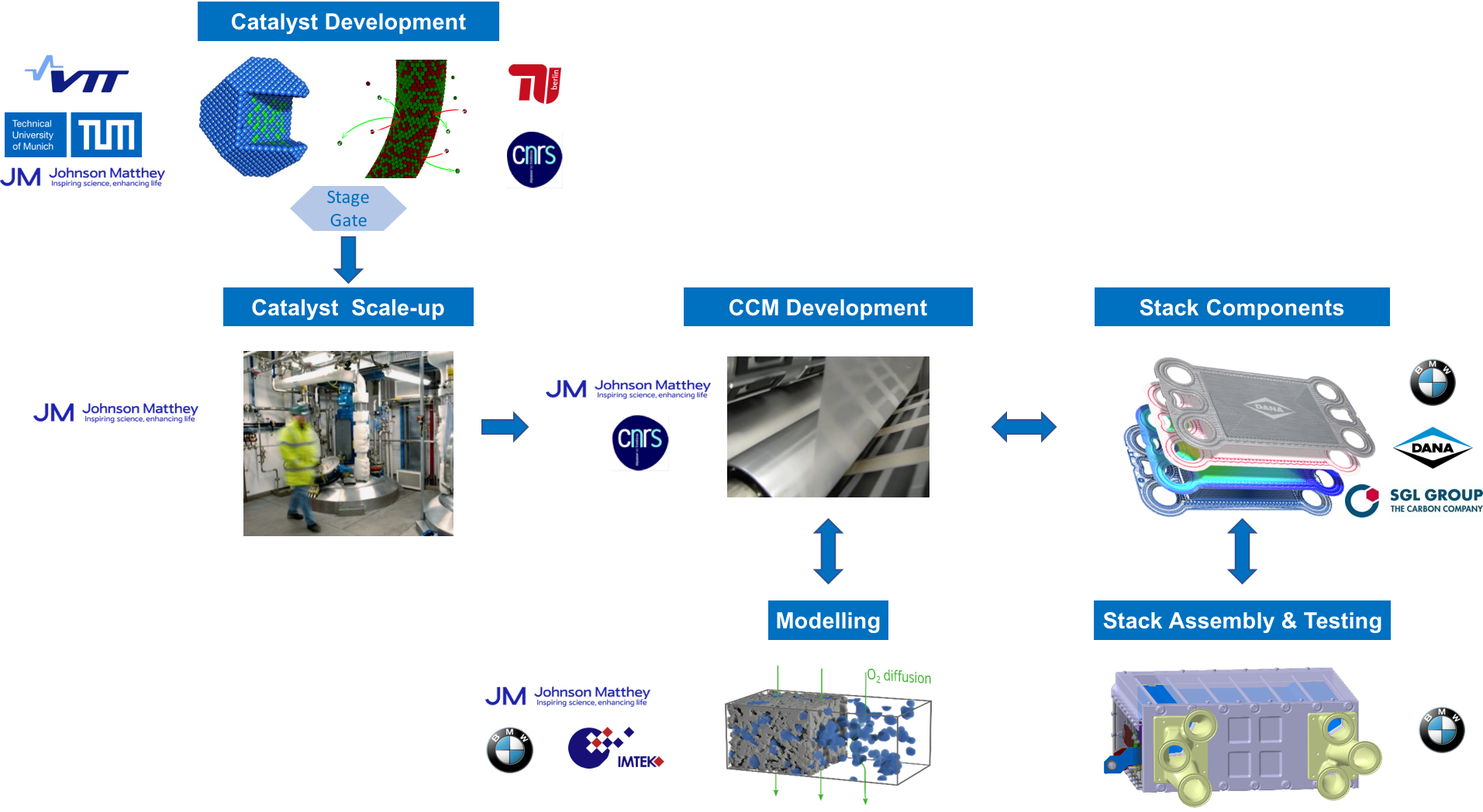 OBJECTIVES
Realise the potential of new world-leading stack components (electrocatalysts, membranes, gas diffusion layers and bipolar plates) and integrate these into fuel cell stacks to deliver an increased automotive beginning of life (BOL) power density of 1.5 W/cm2 at 0.6 V.
Demonstrate the ability of the stack to achieve over 6,000 hours operation with less than 10% power degradation, over an operationally-relevant drive cycle.
Provide a cost assessment study that demonstrates the stack can achieve the automotive stack production cost below the target of 50 €/kW for an annual production rate of 50,000 units.
Progress the establishment of a series of new stack materials and components from laboratory demonstration to full demonstration of scaled materials in practical fuel cell hardware under relevant conditions, involving continued development and optimisation of the technology and demonstrating the manufacturing scalability.
---
---